At Frontier, each team member plays a vital role in ensuring every plane takes off safely and on time. When it comes to giving customers peace of mind and providing them with all they need during a flight, no one better represents the heart of an airline like the flight attendants. One of the many flight attendants who see to our customer's needs is Kim Lane.
Kim Lane is an Orlando-based Flight Attendant who has been with Frontier since August of 2015. Kim previously worked a nine to five office job for 25 years, ultimately deciding she needed a change of rhythm and to find a place she truly loved. In her role as a Flight Attendant, Kim now has the opportunity to see new places and connect with new people.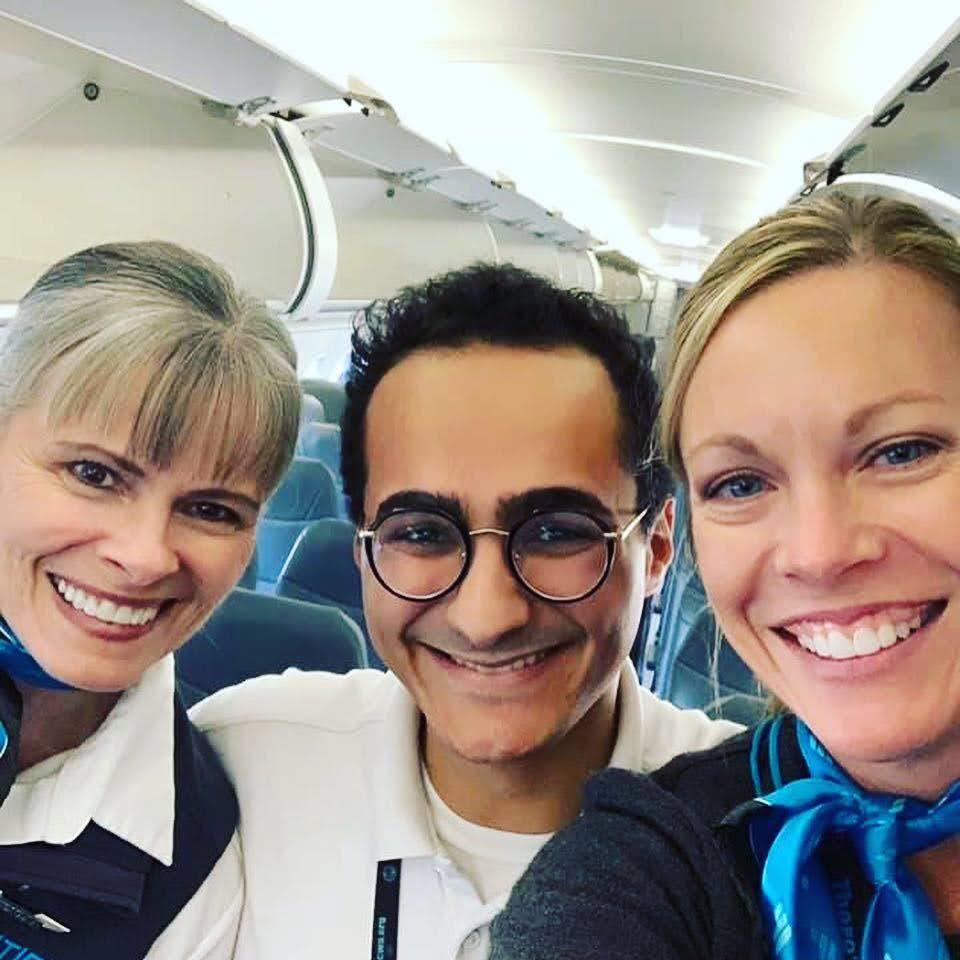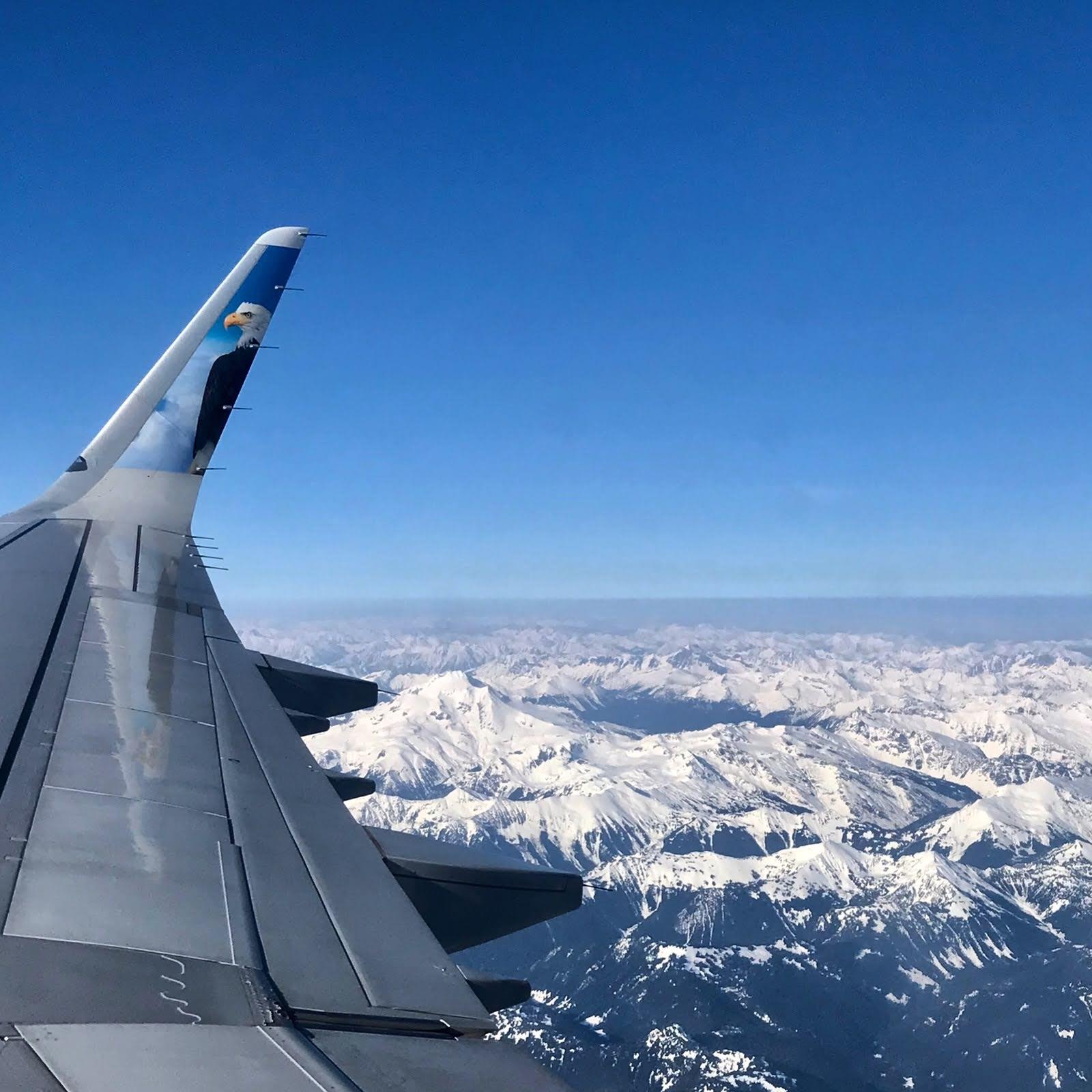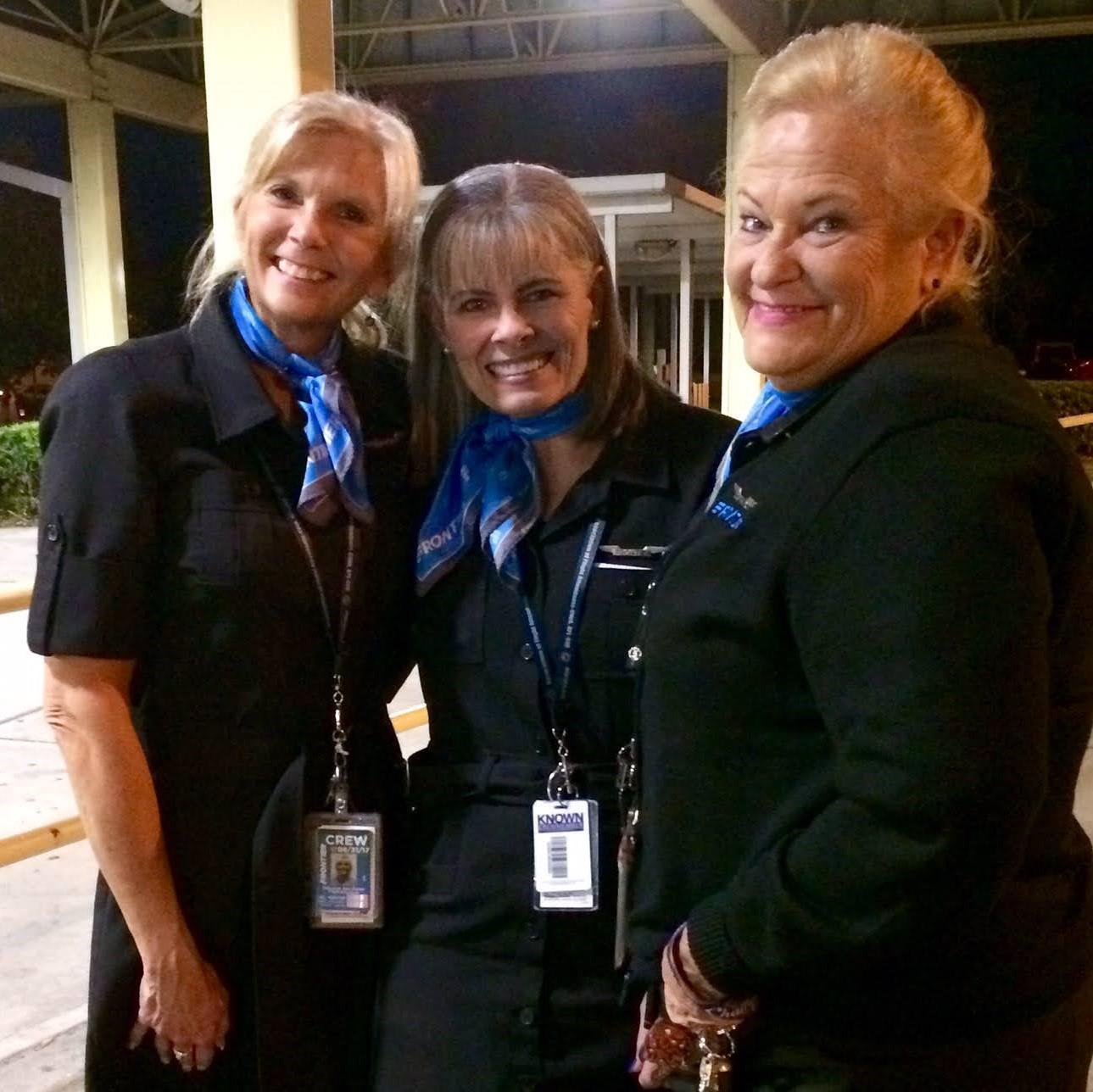 Kim on the far left and in the middle, with fellow Frontier coworkers
A normal day for Kim starts out by packing her bags, putting on her uniform and heading to the airport to assist a plane full of roughly 186 to 230 people reach their destination. She greets each customer with a smile and answers any questions they might have, doing her part to provide a positive travel experience to each customer. "We then drop them off, send them on their way, and pick up more people to fly to another city," Lane says. "The situations and the people we meet are different every day, making my job so much fun."
Lane has always loved everything about aviation - from airports to airplanes to flying. Working at Frontier, Lane is appreciative to be based out of Orlando, her home, and have a flexible schedule that some people in this industry don't have. Most of the customers Lane encounters are regulars who fly back and forth across the country to visit loved ones. "They would not have been able to do this in the past without Frontier's Low Fares Done Right," Lane says. "Our low fares enable so many people and families, to take trips they would not have been able to do. Our motto really resonates with our customers."
Lane loves the part of her job where she gets to discover where her customers are going and why. "I've had so many memorable experiences, ranging from the people I meet on the plane to the people I've been able to help or comfort in some way. I cherish the beauty outside of my window when we're flying and have enjoyed some absolutely wonderful layover adventures with crew members," she said. Of all of Frontier's 100+ destinations, San Diego is Kim's favorite place she has traveled to, with San Francisco as a close second. Still on her bucket list of places to travel to are Alaska and Jackson Hole, Wyoming. When travelling, her favorite plane tail companion is Max the Lynx.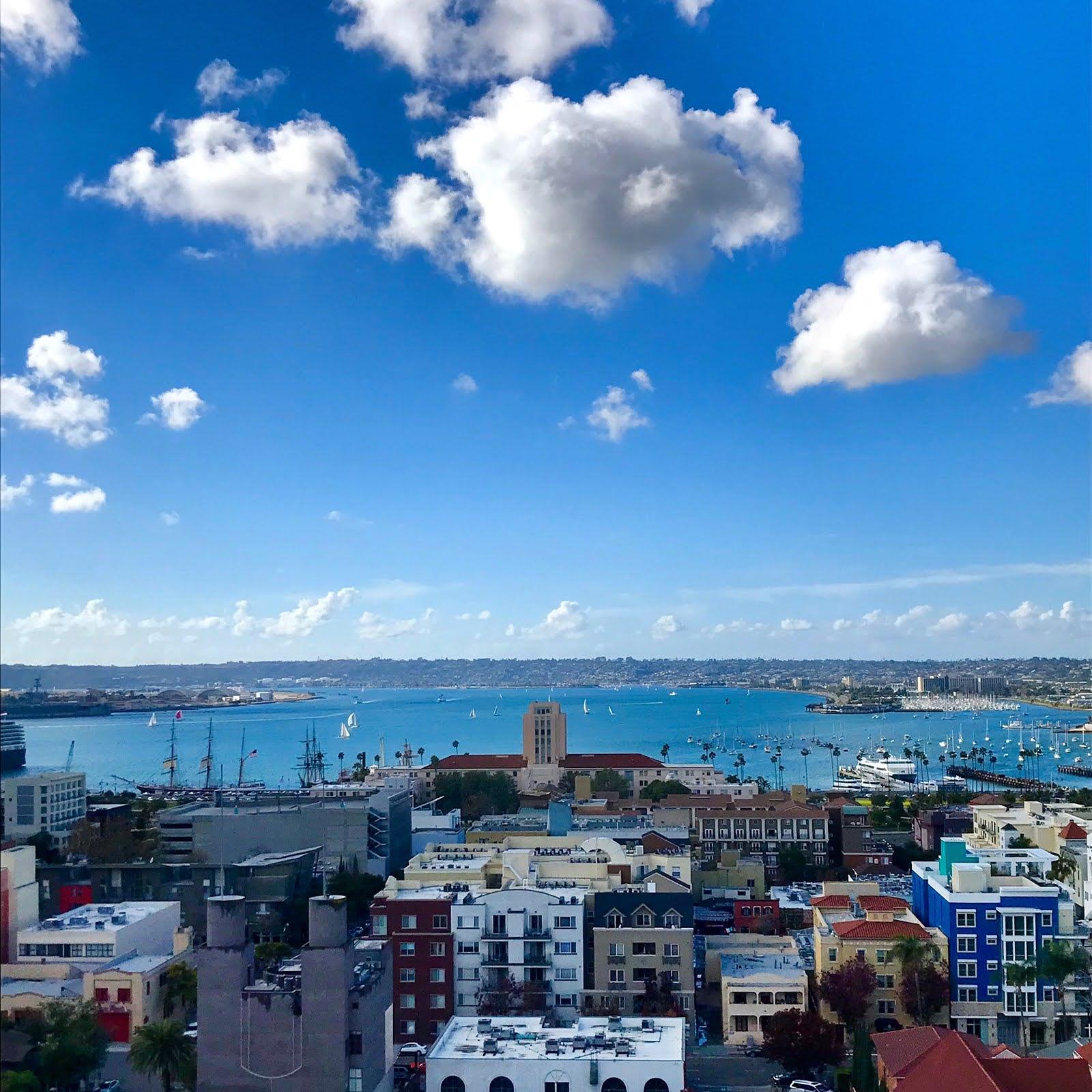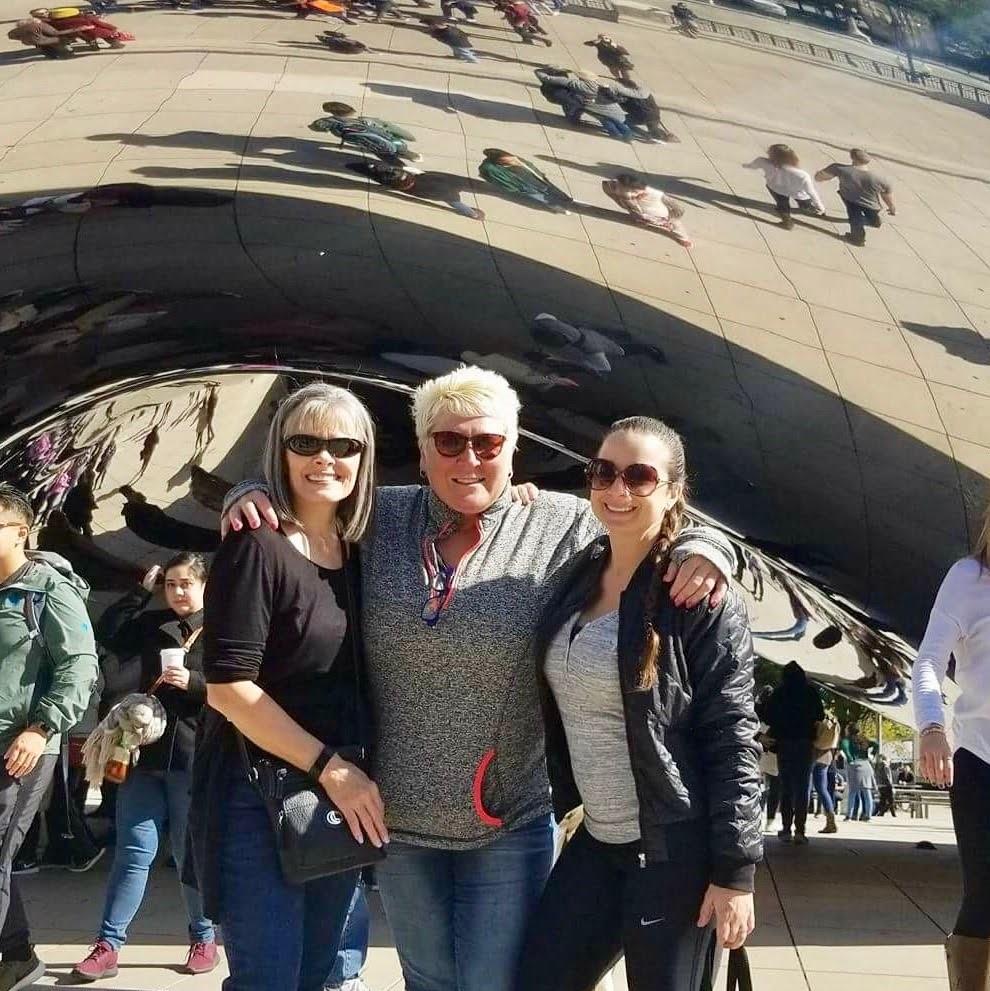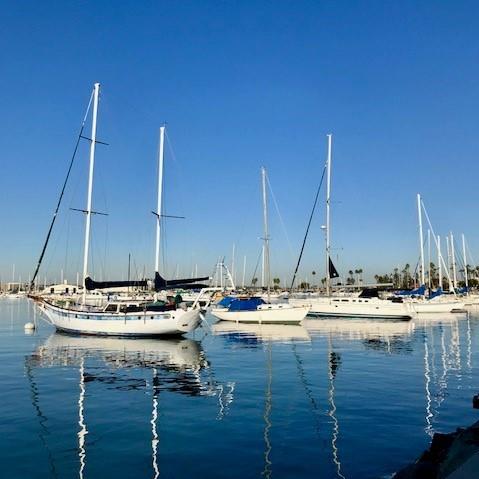 Left to Right: Snap shot of Kim's adventures in San Diego, Chicago in front of "The Bean," and another one from her favorite travel destination, San Diego
Outside of work Lane has three children and eight grandchildren. She enjoys running and incorporates that into her days in and out of work, "I have been a runner for 44 years, and I run every day when I'm home and most days when I'm flying," Lane says. She also enjoys taking nature and travel photos and sharing them on her social media. This could be in part to the views Lane experiences during flight, "I am always inspired by the beauty of a sunrise or sunset, especially when seen above the clouds."
Each member of the Frontier family plays a unique role in helping us maintain our promise to provide Low Fares Done Right. Kim Lane is one of many flight attendants who are proud to connect people with those that matter most.