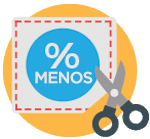 25% DE DESCUENTO
¡Ahorra el 25%* en tu próximo vuelo! Usa el código de promoción: SAVE25
¡No te olvides de mirar nuestras otras ofertas!
*Comprar antes del 5/17/21. Volar antes del 6/16/21. El descuento que se muestra es para viajes directos entre Orlando, FL y los estados contiguos. The following blackout dates apply: 5/27/21 and 6/1/21. 7 day advance purchase applies. Existen exclusiones de ruta. Los asientos son limitados. Existen restricciones.