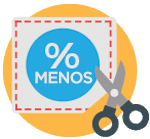 UP TO 75% OFF!
Usa el código de promoción: GIFT
¡No te olvides de mirar nuestras otras ofertas!
*Compra antes del: 12/25/20. Vuela del 1/6 al 3/3/21. A 75% off discount applies to Discount Den fares. A 50% off discount applies to non-member fares. Valid for domestic, nonstop and connecting travel Mondays - Thursdays & Saturdays. The following blackout dates apply: 2/11, 2/12, 2/15/21. Additional blackouts apply to/from Las Vegas, NV: 2/6, 2/8/21 and to/from San Juan, PR: 1/6 - 1/13/21. Existen exclusiones de ruta.
Not a Discount Den member?
Sign up here
and receive a $50 voucher**.