Artículos personales: los artículos personales no pueden tener más de 14" de alto, 18" de ancho y 8" de largo. Personal items must fit completely within the personal item portion of the bag sizer. ¡Pueden ser carteras, bolsos de mano, bolsos de computadora, maletines, bolsos de pañales y mochilas de niños!
Equipaje de mano: los bolsos de mano no pueden tener más de 24" de alto, 10" de ancho y 16" de largo (incluyendo manijas, ruedas y correas), y no pueden pesar más de 35 libras. Carry-on Bags may be placed in the overhead compartment or under the seat. ¡Pueden ser mochilas grandes, bolsos de mano pequeños y maletas pequeñas/con ruedas!
Equipaje documentado: el equipaje documentado puede tener hasta 62 pulgadas lineales (es decir, largo + ancho + profundidad) y no puede pesar más de 50 libras. Baggage that exceeds these limits will have an additional charge of $75 for each bag that is overweight and $75 for each oversized bag, and bags weighing 100 pounds or more are not accepted. Additionally, bags in excess of 110 linear inches will not be accepted. ¡Pueden ser bolsos de mano grandes, maletas grandes y equipos deportivos!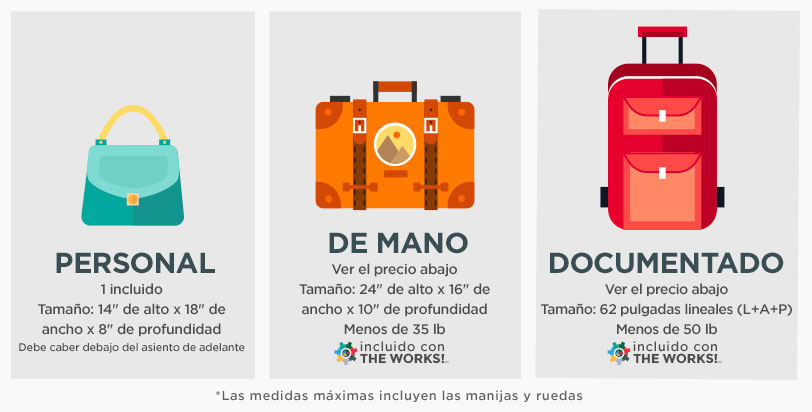 No olvides pagar tu equipaje con anticipación - ¡Los precios son más altos en el aeropuerto!
Si compraste alguno de nuestros paquetes, The WORKS℠ o The PERKS℠, ¡se incluye un equipaje de mano y una maleta documentada!
Para más información sobre equipaje, visita nuestra página de Equipaje.