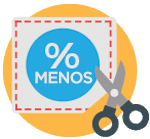 UP TO 80% OFF!
Usa el código de promoción: GOGREEN
Don't forget to check out our other Deals.
*Comprar antes del 2/1/21. Volar antes del 3/10/21. Discount shown is for domestic, nonstop travel to/from select markets, Mondays - Thursdays & Saturdays. Existen exclusiones de ruta. Los asientos son limitados. Existen restricciones.